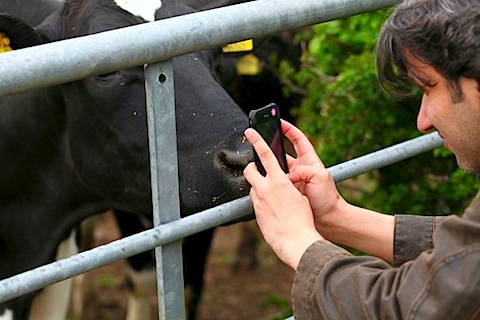 I didn't mention this topic before, did I?
Few months ago I created a new account of Flickr dedicated to the photography I do using my mobile phone camera (iPhone). I've been publishing my mobile photography on Twitter and Facebook since the beginning, but I was afraid to post them to my Flickr because, after all, they have inferior 'physical' quality when compared to my other work.
I felt the need to create this flickr account after realising the rapid change in the rules of digital photography. I started with film, then came digital, and now a new field emerged, that is Mobile Photography.
Mobile photography is not a 'new thing' at all. Photographers has been 'mobile' ever since the first Kodak in the late nineteenth century. Phone cameras (or camera-phones) and mobile internet added a new dimension to the game. Now, with the iPhone with it's camera and multiple photo apps, not forgetting the impact of social media sites and services, the world of photography changed for ever!
Today you not only have your camera with you everywhere you go, but you also can shoot, edit, comment on and publish your photos at -almost- any moment in time. We are not talking about the small, shaky and flat snapshots associated with the term 'Mobile Phone Picture', we are talking about beautiful, well thought about, vibrant, professional(esh) quality kind of photographs.
I probably will not abandon my 5D or other real cameras anytime soon, but I could not deny or neglect the quality of the images my iPhone produces, so I decided to create this account and give them a life outside the strains of my official Facebook account. Oh.. and yes I have an 'Official' Flickr account for my other 'non mobile' photos.
So here is the address to my Moayad on The Go flickr account in case you are interested:
http://www.flickr.com/photos/moayad-mob
Or, if ,for some reason, you hate flickr or something, you can see my latest mobile photography work right here on my site:
http://www.moayad.com/photography/mobile
———-
Notes:
– I'd like to thank my friend Musaed for reminding me of this topic 🙂
– And yes… picture above photographed by Athoob 😛